source: www.youthwork-practice.com | 2000 Games, Devotions, Themes, Ideas and more for Youth Work
only for private using
A (burned out) light bulb!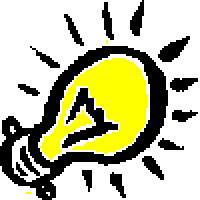 Of course you know what a light bulb is. There are many different forms, sizes and watt strength. Some bulbs have 20, 40, 60, or 100 watts. It doesn't matter what strength – each bulb has a certain function. Even the bulb with few watts and less brightness is indispensable. Light bulbs are essential and must burn for lamps to work. A burned out light bulb belongs in the trash bin.
What does this have to do with Jesus?
Jesus wishes that you are a bright witness for him. Unfortunately, many Christians are like a lamp that no longer shines. The filament of the light bulb has been somehow broken and the lamp shines no more. This happens to many Christians. They can resist many temptations, but then suddenly some small sin takes all the power in the bulb. It only takes a little to destroy the filament. Exactly the same thing can happen if some small thing makes your witness to the Lord Jesus unbelievable.
[ © www.youthwork-practice.com | 2000 Games and Ideas for Youth Work ]