source: www.youthwork-practice.com | 2000 Games, Devotions, Themes, Ideas and more for Youth Work
only for private using
Devotions and Impulses for Christian Youth Work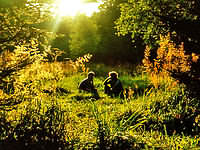 The devotions covered here provide an impulse (stimulus) for conservation with children or young adults in a youth group setting. The themes and thoughts are deliberately briefly summarized (with a few exceptions), for in their brevity lie the roots of the subject. The devotions should be chosen according to the kind of group and the ages of the participants. Use your own thoughts and words fitting to the group situation to enhance and supplement the devotions. The children and adolescents will picked up where they stand and will get right to the heart of the subject.
About Love, Friendship and Trust
Itıs All About You ­ From Decisions, Paths, and Goals
So That Everyone Gets It ­ From Parables To Comparison
Success ­ The Big and Small Problems
Get the Momentum Going ­ Short Thought-provoking Topics
Children's and Adolescent Christmas Church Service
Themes, Topics, Miscellaneous and Stories, ...
Introductory Skits, Comprehensive Bible Studies, Devotional Series, Methods and Tips
[ © www.youthwork-practice.com | 2000 Games and Ideas for Youth Work ]