source: www.youthwork-practice.com | 2000 Games, Ideas and more for Youth Work
only for private using
Game ideas for Group Gatherings, Party or Camp
Over 2500 Games - one of the world largest collections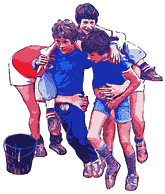 Are you looking for group games for a children's group, a youth group, for camp, or the next children's birthday party? Are you organizing a play street, school festival, station games or a cross country run? Do you need suitable quiz questions or riddles, detective stories or detective brain-teasers, ghost stories and other ideas for your program or party with your friends? Perhaps you'll find one or more ideas here.
The descriptions of the games and ideas within these game collections are briefly stated and are often in list form. Many are suitable for party games, wedding party games, or games for children's birthdays. There are well-known classic group games in their original or similar form that have been played in group gatherings, children's celebrations or at children's birthday parties.
Complete Programs & Ideas
Classical Indoor Games
Simple games with little requirements
Seasonal Games
Creative Games
Outdoor Games
City – and Field Games
Other Ideas and Material
About me and this page
I was involved in youth work in a little town in the south of Germany as a voluntary member of staff since 1974 until 2008, therefore over 34 years. In the 1500 (and more) group hours and over 80 camp holidays, I have collected many ideas and experiences. I organized many camps, also many city-visits such as in Berlin, Venice, Paris or Rome and I'm a fan of experience orientated youth work and camps. Also you can find on my page a small youthleader training program.
[ © www.youthwork-practice.com | 2000 Games and Ideas for Youth Work ]