source: www.youthwork-practice.com | 2000 Games, Devotions, Themes, Ideas and more for Youth Work
only for private using
Hold the fire at burning!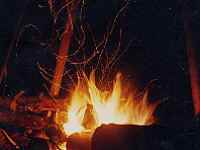 Have you already had an experience with a campfire? At first the kindling wood or small pieces of wood burn. Then the larger pieces start to burn. If the fire threatens to go out, one stirs the fire and adds more wood to it.
The fire can only burn if the wood is placed together. When the wood pieces are too far away from each other, the fire and the warmth are lost.
It is similar with Faith. A small fire begins to burn in your heart. To keep that fire going, you need community with others. That gives warmth, strength and shows the effect on you and others.
Whoever thinks he can burn alone, is mistaken. In time the fire would go out. If you want to follow Jesus, then look for a group in which there are others with the same goal.
[ © www.youthwork-practice.com | 2000 Games and Ideas for Youth Work ]