source: www.youthwork-practice.com | 2000 Games, Devotions, Themes, Ideas and more for Youth Work
only for private using
Do You Have A Reliable Compass?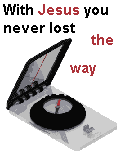 Have you ever used a compass to navigate your way?
The compass always shows you the right way. You can count on it.
With the compass you locate your goal and go toward it. Take care that the needle is not disturbed by magnetic fields. It could then happen that you miss the goal.
It is similar with Faith. One has a goal, orients himself with it and then disturbances sometimes appear. If you fix your goal before you go, then you can get through whatever disturbances may come without losing sight of that goal. Don't let yourself be mislead.
[ © www.youthwork-practice.com | 2000 Games and Ideas for Youth Work ]