source: www.youthwork-practice.com | 2000 Games, Devotions, Themes, Ideas and more for Youth Work
only for private using
Sparklers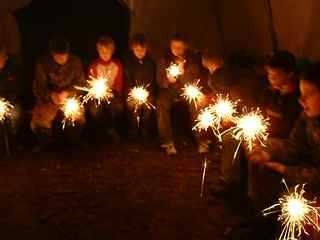 Everyone knows sparklers. These grey, inconspicuous, sometimes even boring sticks can really burn delightfully. Hold a match to the sparkler and thousands of small glittering sparks fly into the air. It's a miracle! It becomes bright.
Our faith sometimes seems to be gray and boring. If however the spark of God comes over you and you let it ignite you, then your faith, which has often become boring, can ignite the sparks and many small miracles can happen. Your faith can also inspire others, just like a sparkler that can ignite another sparkler.
Let yourself succumb to God's spark and with it be infectious to others, like the sparkler that sprays light.
[ © www.youthwork-practice.com | 2000 Games and Ideas for Youth Work ]