source: www.youthwork-practice.com | 2000 Games, Devotions, Themes, Ideas and more for Youth Work
only for private using
Soap games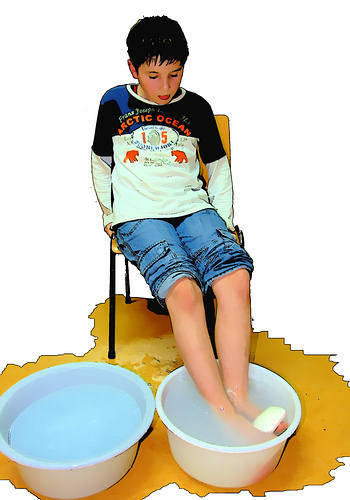 Soap games: The objective now is to
get a piece of soap from one bowl to the other
using only your feet.
©: www.youthwork-practice.com
Games with soap are somehow unusual. However, this collection of 11-15 such games, including their variations, promises a lot of fun. Because it is a bit "wet", "slippery", "slimy " and "greasy" matter. These games will be more for boys and perhaps even more of a game idea or program item for a camp.
However, the one or other game is civilised and also requires skills without getting all dirty and wet. You can use cheap curd soaps, depending on the game. You can buy it all in a building materials- or in drugstores for little money.
Safety advice for soap games
Because those games are marked for their slipperiness, it is easy for children to take a fall. It is better to play the one or other game sitting or on your knees, then standing up. E.g.: if there is a fight on a slippery mat the youth worker has to interfere.
Feet
The candidate sits in front of two water bowls with no socks on. The objective now is to get a piece of soap from one bowl to the other using only your feet. How many times can you do that within 2 minutes? Highest score wins.
Hand gliding
Soak a piece of soap in water for a few minutes. Then take the soap in one or both hands and "squeeze" the soap out. Measure how far every soap cake flies.
Soap bowling
For this game, you need to cover the ground with a plastic sheet. An already wet, somewhat soaked piece of soap is your bowling ball. At the end are plastic, cups placed. The incentive is to hit as many as possible containers.
Curling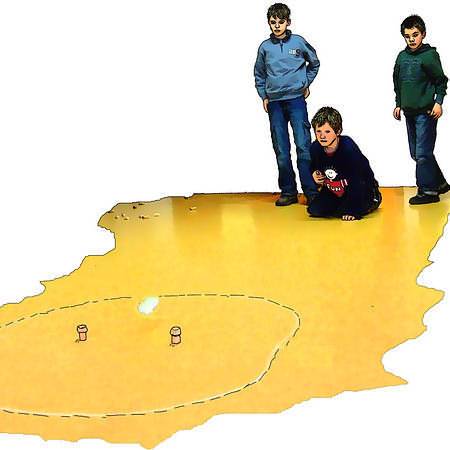 Soap games: Curling
©: www.youthwork-practice.com
For this game, you need to cover the ground with a plastic sheet. An already wet, somewhat soaked piece of soap is your "Curling." Mark the other end of the plastic sheet with a water prove pen. The objective is to get the soap as close as possible to the marked area.
Soap consumption
Every team gets a piece of soap. The aim is for each team member is to lather up to the point where there is no soap left. You can also lather you're your t-shirt, trousers, etc. It is the task of the youth worker to observe that no soap breaks because that would speed up the use of the soap. Which team manages to use up their soap first? It is almost needless to say, that this is an outdoor game and should be followed by a shower. – Or going for a swim. Also, make sure that kids do not wear their favourite clothes.
Fighting games
The gladiators of the old Romans oiled their bodies to fight better. However, we do not use oil but soap. Every candidate gets lathered up. Then they engage in combat. A pretty slippery fight. Afterwards, take a shower.
Duel:
Variation 1: the candidates face each other in push up mode. The objective is to push the other person's hand away so that he falls flat on his face.
Variation 2: both candidates sit back to back and hook into each other's arms. The objective is to "turn" the opponent on his belly.
Variation 3: Common wrestling. However, because of the danger of falling it is better to take this battle out while sitting.
Soap relay
A piece of soaked soap is passed on from one kid to the other. The last person throws the soap in a bucket of water, takes the bucket and runs to the front. And the passing on of the soap starts all over again. Which relay is faster?
Variation: the soap is thrown from one player to the other.
Variation: If the soap drops to the floor, the team has to start all over again.
Cling wrap
The team members are sitting behind each other. Above their heads, they hold a rolled out cling wrap forming a groove. One player puts a soaked piece of soap on this gutter. The objective is to let the soap slide down backwards and finally entering a bucket. How many times can each team do that in 2 minutes? If the soap drops to the floor, the tea has to start all over again.
Slithering slide
Take a tough plastic sheet (silage film, tent floor, tarpaulin) and lather it up with soap. With a little run-up, who can slide the furthest?
Variation 1: Standing (be careful not to fall)
Variation2: Sitting
Variations 3: sliding along on your belly
Soap slide
On a nearby hill, every team builds their very own soap slide, using cling wrap, dirt and soap. Make sure there are 4-5 bends in your slide. Now, using water, the soap has to slide down the track. Each team has about 20mins to finish this task. After that the slide is put to the test and each team will find out if their slide is made to last. Take into account: length, the number of bends, etc.
Plastic sheet sliding
Using a tough plastic sheet (silage film) you can create a great water slide. This will give you a lot of fun at each summer camp. Here are some safety instructions which have to be observed.
[ © www.youthwork-practice.com | 2000 Games and Ideas for Youth Work ]