source: www.youthwork-practice.com | 2000 Games, Devotions, Themes, Ideas and more for Youth Work
only for private using
Advent Calendar
The following material is needed:
Empty matchboxes (for each Advent Calendar you will need be pieces needed)
Wrapping paper or other colourful paper
Wrapping Ribbons
Glue, Scotch tape and scissors
Sweets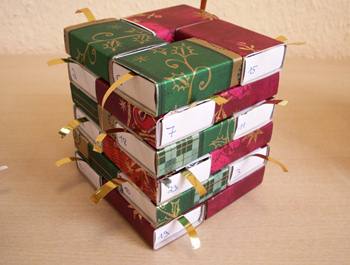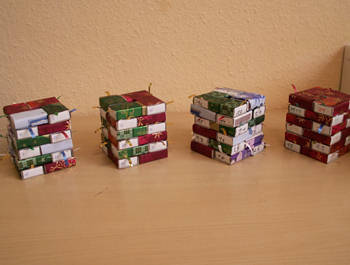 Instruction
First, all the matchboxes have to be covered in wrapping or other colourful paper. In preparation, you could also decorate the bright paper with Christmas motifs, using crayons. Important: 8 boxes must be completely covered, for all others it is sufficient if only the long side covered with wrapping paper.
Now, glue a piece of ribbon on the front side of the matchboxes, fasten it with Sellotape. This results in a small drawer, which you can easily open with the ribbon. For safety's sake, it should be tried out whether this works smoothly.
Then the boxes are joined together, into a kind of cube. Always four boxes forming a series. These are arranged as shown in the figure. Important: The first row must consist of four boxes that are completely covered with wrapping- or the ornate, colourful paper.
The second row is also arranged, rotated, however, so the Advent Calendar is stable. All further rows are offset relative to the underlying row and glued together. Then again, the fifth and final series consists of four boxes that were completely covered.
Finally, the advent calendar is filled. Instead of sweets, small gifts can be hidden. This should be possible, however, to fit comfortably in the matchbox.
[ © www.youthwork-practice.com | 2000 Games and Ideas for Youth Work ]