source: www.youthwork-practice.com | 2000 Games, Devotions, Themes, Ideas and more for Youth Work
only for private using
Advent-columns, Gift-column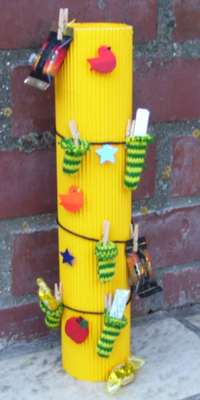 Materials:
Corrugated card or craft card
Wool, knitted tube
Clips, Bonbons, glue
Decorative figurines
How to make:
Make a column out of firm corrugated card of craft card, securing with sticky tape. Tie several pieces of wool around the column. For the little socks, cut approximately 8cm sections out of the wool tube, turn inside out and tie one end using a piece of wool. Turn the tube out again and fold over the open end – perhaps sewing/gluing into place.
Fill the little socks with bon bons or vouchers and attach to the column using a clip. Attach 23 more little treats to the column- with or without little socks. Decorate the column with little stars, fairy lights or Christmas-type figurines.
[ © www.youthwork-practice.com | 2000 Games and Ideas for Youth Work ]