source: www.youthwork-practice.com | 2000 Games, Devotions, Themes, Ideas and more for Youth Work
only for private using
Angels for decoration
Large angels are an ideal decoration for the table, windowsill or around the Advent wreath at Christmas time.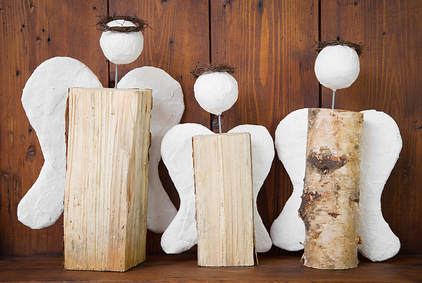 ©: Jeanette Dietl - Fotolia
Materials needed:
For each angel one longish wooden block
A large nail
An approximately fist-sized Styrofoam ball
A Styrofoam plate
Hammer, pencil, glue and a jigsaw
Instructions for Angels
Use the wooden block for the body of the angel. You can easily use a piece of firewood, just make sure you chose one which is relatively smooth. Before you actually start crafting, you could sand all the sides of your piece of wood with some sandpaper. Next hammer your nail into the piece of wood, just as deep so it can't fall out again. Now stick the head to the nail.
Draw the shape for the wings on the Styrofoam board and cut it out with a jigsaw. Finally, glue the wings to the back of your figure.
[ © www.youthwork-practice.com | 2000 Games and Ideas for Youth Work ]