source: www.youthwork-practice.com | 2000 Games, Devotions, Themes, Ideas and more for Youth Work
only for private using
Book-worm
Book mark – lucky charm – pendant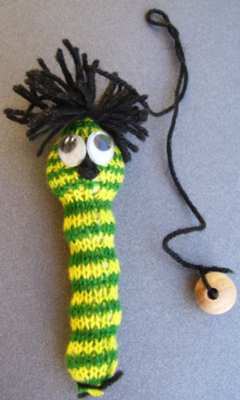 Materials:
Knitted tube 12cm long, 2cm diameter.
Wool
1 Wooden marble approximately 3,5 cm
5 medium sized wooden marbles approximately 1,5 cm
Wobbly eyes, knitting needle, scissors, glue
Instructions:
Turn the knitted tube inside out, tie one end with a piece of wool then turn it back to normal. Firstly, put the large wooden marble into the tube followed by the 4 medium sized marbles. Tie the tube tightly at the bottom and sew it together.
For the hair, cut bits of wool approximately 6cm long, tie them together tightly in the middle then using wool and a knitting needle stitch onto the head. Tie a thread and leave approximately 35cm loose at the end. To the end of this thread attach the 5 wooden marbles. Knit a nose into the face using wool and stick on wobbly eyes.
[ © www.youthwork-practice.com | 2000 Games and Ideas for Youth Work ]