source: www.youthwork-practice.com | 2000 Games, Devotions, Themes, Ideas and more for Youth Work
only for private using
Butterfly Napkin holder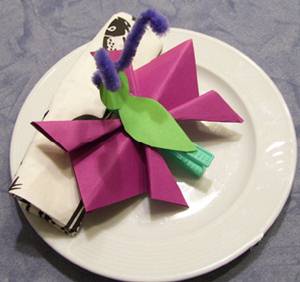 Materials:
Clothes pegs
Scissors, Glue gun, glue
2 Paper squares
Scraps of paper, pipe cleaners
Napkins
Instructions:
Fold the square into a triangle (picture 1)
Fold the left and right corners into the centre (pictures 2 & 3), and do the same again.
Fold outwards (picture 4)
Fold the entire wing in half, then open again – leaving a crease in the middle (picture 5)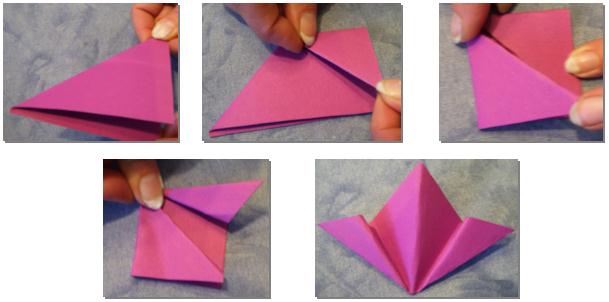 Do the same thing with the other square of paper.

Cut out a butterfly body out of coloured card, paint it as desired and stick on pipe cleaners or card for the feelers.
The best thing is to stick the wings onto the long side of the clothes peg using a glue gun. Stick the butterfly body onto the wings. Roll up a napkin and attach the clothes peg to it. The butterflies are also ideal party decorations.
[ © www.youthwork-practice.com | 2000 Games and Ideas for Youth Work ]