source: www.youthwork-practice.com | 2000 Games, Devotions, Themes, Ideas and more for Youth Work
only for private using
Button chain
Crafting a button chain guarantees a fun-filled afternoon, where you can design a small piece of jewellery for yourself or as a gift. For this you will need: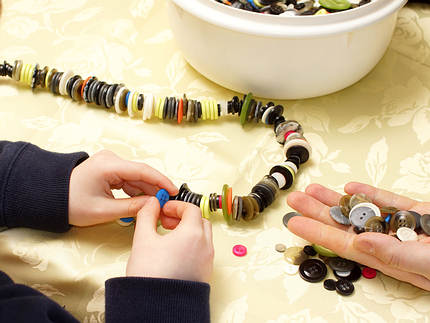 ©: Köpenicker - Fotolia
Buttons in different colours, sizes and patterns
A thin thread of leather or flexible plastic
Instructions for button chains
Before you begin with the crafting, sort your buttons by colour and patterns. Then thread them up on your string. Because you need some string to close your chain at the back of your neck, the buttons should not be strung up all the way back.
At the end of the arranged buttons make a knot which should be greater than the buttonholes. This prevents that buttons can slip through. Subsequently, the ends of the thread are tied, so that the chain cannot open all by itself.
[ © www.youthwork-practice.com | 2000 Games and Ideas for Youth Work ]