source: www.youthwork-practice.com | 2000 Games, Devotions, Themes, Ideas and more for Youth Work
only for private using
Castle, Knight and Dragon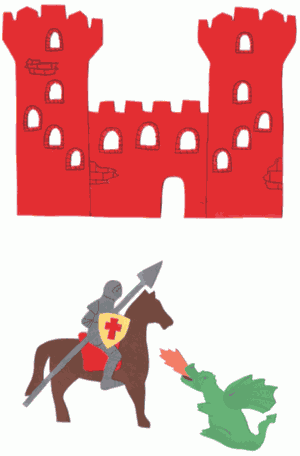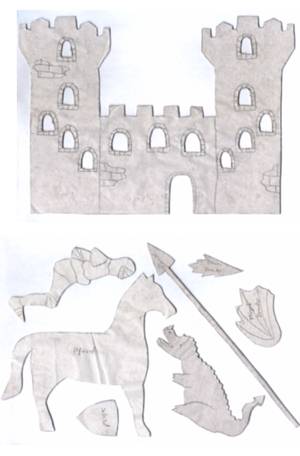 Preparation:
Firstly print out the templates and stick onto card. These need to be cut out and replicated so that the youth club participants don't have to wait a long time for their templates. For younger children you should draw examples onto craft paper (using the templates as help), so that during the youth club session they are not swamped down with drawing.
Materials for Castle:
Card
Pencil
Scissors (sharp scissors)
Black fine liner
Craft card in desired colour
Making procedure:
Firstly draw the castle onto craft paper – not forgetting the door and window. When cutting out the window use sharp scissors and be careful. Finally draw on individual stones – particularly around the windows.
Materials for Knight on a Horse:
Card
Pencil
Scissors (sharp scissors)
Adhesive
Black fineliner
Grey/silver, brown, red and yellow craft card.
Making procedure:
After drawing the individual parts cut them out. Draw lines onto the knight's body using fine liner. Next stick the cross onto the knight's shield (the children could also think up their own emblem or symbol and draw onto the shield). Following this the saddle is stuck onto the horse, followed by the knight, the lance and the shield. Finally the horse's eyes are drawn on.
Tip: The horse looks better if you draw on a mane or make one out of wool.
Materials for Dragon:
Card
Pencil
Scissors (sharp scissors)
Adhesive
Black fineliner
Green and orange craft card
Making procedure:
First all of the pieces need to be drawn and cut out. Then the dragon body and wings are painted. Following this the wings and fire are stuck onto the body.
[ © www.youthwork-practice.com | 2000 Games and Ideas for Youth Work ]