source: www.youthwork-practice.com | 2000 Games, Devotions, Themes, Ideas and more for Youth Work
only for private using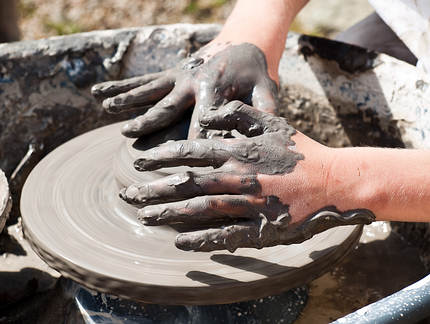 ©: Sulamith Sallmann - Fotolia
Clay bowls or - figures
Small pots or clay figures are among the most popular gifts. They can easily be made by children of almost all ages.
All you need is
A potter's wheel
Clay
A kiln
Instructions for Clay bowls
Before you can start working, you must moisten your clay properly. The moist lump then is placed on the potter's wheel. As it rotates, use your hands and fingers to bring the clay into the desired shape. While bowls and other containers are relatively easy to create, for figures you might need a more detailed description.
Once the bowl or the figure is finished, it is fired in the kiln. You possibly can do the firing in the kiln at the school where pottery is regularly taught as part of the curriculum. Sometimes even churches or youth groups have access to a kiln which can be used by none members of those organisations.
[ © www.youthwork-practice.com | 2000 Games and Ideas for Youth Work ]