source: www.youthwork-practice.com | 2000 Games, Devotions, Themes, Ideas and more for Youth Work
only for private using
Desktop – Organizer 1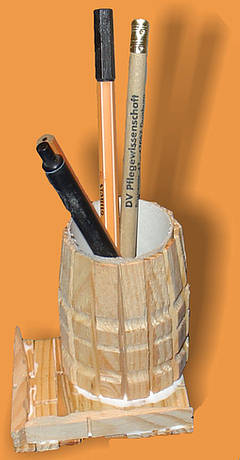 Materials:
Wooden clothes pegs
Toilet paper roll
Scissors or Stanley knife
Glue
Possibly sand paper
This pen holder can be quickly made with a few simple things.
Stick the halved wooden clothes pegs around the toilet paper roll. Any card that sticks out should be carefully removed with scissors or a Stanley knife.
As a base, 8 halved clothes pegs are stuck together sideways and in alternating directions.
The top and bottom pieces are then glued together. 2 more clothes peg halves are then glued on as a rim for the base.
[ © www.youthwork-practice.com | 2000 Games and Ideas for Youth Work ]