source: www.youthwork-practice.com | 2000 Games, Devotions, Themes, Ideas and more for Youth Work
only for private using
Dreamcatcher
According to an old American Native legend, the dreamcatcher is supposed to let the good dreams through to the dreamer while the bad dreams are getting caught in the net of the dreamcatcher and are being destroyed by the first rays of the morning sun. Therefore, you have to hang the dreamcatcher in the window or over your bed.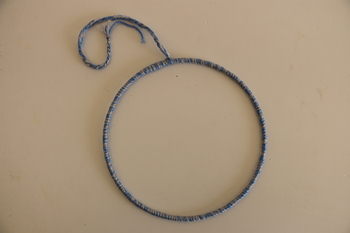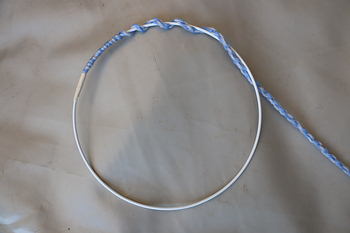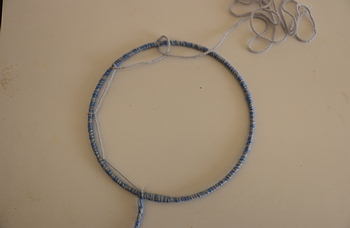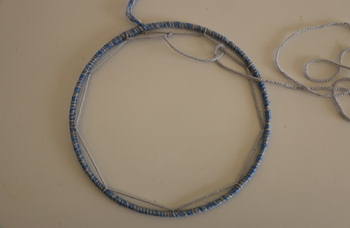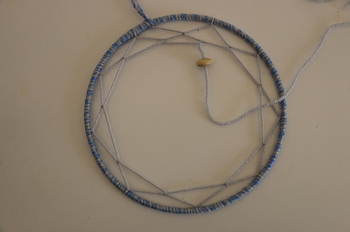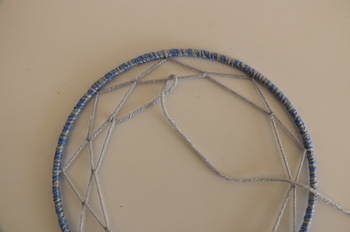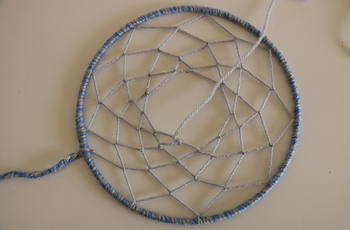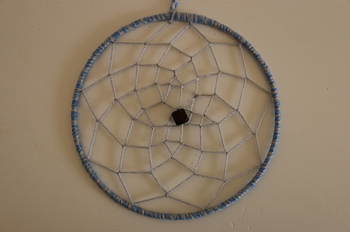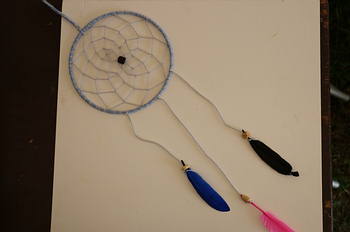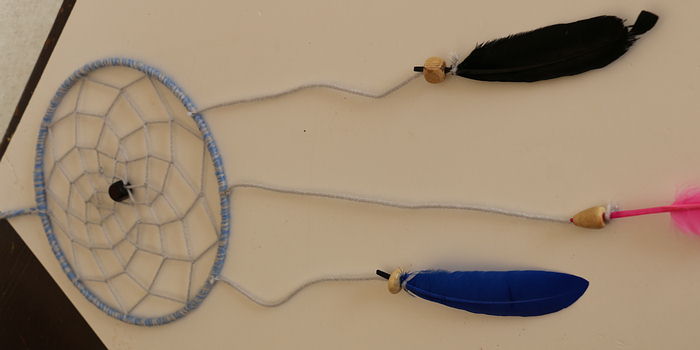 Required materials:
Metal or wooden ring
Yarn of different colours,
Beads
Feathers
Needle, scissors,
Preparation: preparing two coloured threads
Take two equally long different coloured threads

Make a knot at one end and attach it e.g. at a door or window handle, on a hook on a wall or anything alike.

Now take the other end of the threads and twist those two threads together. If you have twisted them long enough, the threads will curl up. Now take a pair of scissors
Implementation:
Glue the two-coloured thread to the metal ring and wrap the thread tightly around until the entire ring is covered. (Fig. 1).

If a thread comes to an end, it has to be glued together with the beginning of the next thread. Continue wrapping the thread around the metal ring. Always take good care to cover the glued beginnings and ends well.

When the entire ring is covered, knot the ends well but leave a piece as a hanger. Alternatively, you can always attach a hook later. (Fig. 4)

Then take a simple thread tie it to the ring on one side and put it in a needle on the other side.

Now pull the needle over the ring, coming from the back and then through the loop which emerges out of it. (Fig. 2). Next put more looks around the ring at a distance of about 2cm.

For the second row go with your needle from the front through the back of the first loop and then again with the needle from the back to the front through the new loop. (Fig. 3)

Keep repeating those steps until the entire ring is filled with a net. Don't forget to always tighten it nicely.

Place a bead in the middle and knot the net using the bead. Hide the knot within the bead.

Decorate your dreamcatcher with beads and feathers at the bottom.
[ © www.youthwork-practice.com | 2000 Games and Ideas for Youth Work ]