source: www.youthwork-practice.com | 2000 Games, Devotions, Themes, Ideas and more for Youth Work
only for private using
Fir cone figurines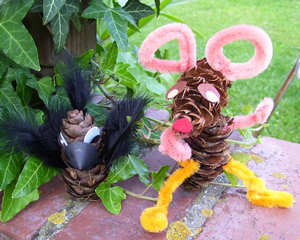 Materials:
Fir cones
Pipe cleaners, craft paper
Feathers, Wobbly eyes
Glue, Glue gun
Instructions for Raven:
Decorate a large fir cone with feathers to create the wings and the tail – stick in place with glue. Cut a circle out of craft paper and make a cut into the middle – make a cone shape out of it and stick on as the beak. Design the face as desired – using wobbly eyes or craft paper. Attach a thread to hang it up or make some feet out of craft card and stick to the fir cone.
Instructions for the Mouse:
For the mouse you need 2 different sized fir cones. Perhaps cut the tip off the larger fir cone. Stick eyes and nose made out of craft paper onto the smaller cone. For the ears, make circles out of pipe cleaners and stick to the round head. For the body, lay a pipe cleaner around the middle and shape the ends into feet. Attach small bits of pipe cleaner for the arms. Finally place the head onto the body (tip cut off) and glue into place – a glue gun may be needed.
[ © www.youthwork-practice.com | 2000 Games and Ideas for Youth Work ]