source: www.youthwork-practice.com | 2000 Games, Devotions, Themes, Ideas and more for Youth Work
only for private using
"Fish spawn"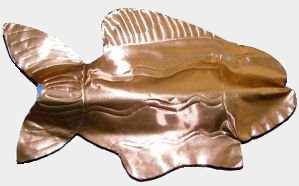 A roll of Smarties, an embossing foil and maybe a suitable fish shape (baking shape) to emboss is all you will need. For the next step you should cut embossing foils with the help of the baking shape which is cleaning cut to shape. The foil can then be decorated with more details (e.g. scales). If two different coloured foils are to be used make sure that one half is cut in mirror image. A roll of Smarties must fit between the two foils and you must make sure that the Smarties lid at the tail fin end of the fish can easily be opened. Now both halves of the fish can be stuck together. This fish not only looks sweet it also has sweet contents.
[ © www.youthwork-practice.com | 2000 Games and Ideas for Youth Work ]