source: www.youthwork-practice.com | 2000 Games, Devotions, Themes, Ideas and more for Youth Work
only for private using
Fun flower pot jewellery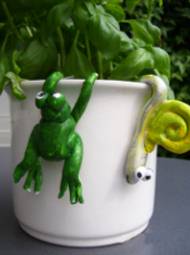 Materials:
Viva Pardo jewellery clay or similar modelling clay
Paint (Acrylic, jewellery paint, water colours… )
Paint Brush
Maybe clear lacquer
Instructions:
Create desired shapes out of the Viva Pardo clay e.g. a snail out of 4 pieces (2 x eyes, 1 body and one shell) which are stuck together before drying.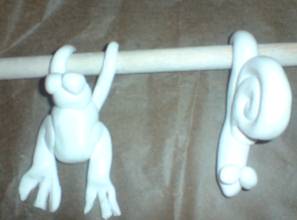 So that the figures can be hung onto the rim of the flower pot, the corresponding body parts are bent into a hook. The hooks should be laid on something e.g. a wooden spoon whilst hardening so that they keep their shape, or place the figures sideways.
Preheat the oven to 130°C and harden the figures for 30minutes (take good note of the package instructions and safety advice!). Leave too cool after hardening.
Paint as desired, and depending on the application of paint, seal with clear lacquer once the paint has dried.
[ © www.youthwork-practice.com | 2000 Games and Ideas for Youth Work ]