source: www.youthwork-practice.com | 2000 Games, Devotions, Themes, Ideas and more for Youth Work
only for private using
Games of skill/patience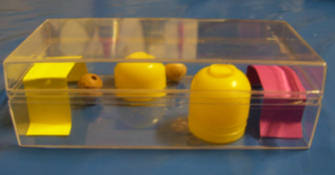 Materials:
Empty plastic container with lid
Marbles, toy car
Craft Card, wood pieces, figures
Glue gun
Instructions for games of skill/patience
In a plastic container secure two 'goals' opposite each other using the glue gun (in this example the goals are made of craft card). In the centre of the playing field stick down two obstacles using the glue gun.
Put two game figurines in the container (marbles, animals, toy cars). Put the lid on and get into position – who will manage to get the two marbles into the opposite goal at the same time?
Paint the obstacles (houses, footballers) and the goals (garage, goal, door etc.) as desired.
Modification: In a wooden box glue square timber pieces into place to make a labyrinth. Increase the level of difficulty by adding see-saws or arches.
[ © www.youthwork-practice.com | 2000 Games and Ideas for Youth Work ]