source: www.youthwork-practice.com | 2000 Games, Devotions, Themes, Ideas and more for Youth Work
only for private using
Glass aquarium
As table decoration or to give as a gift 'Glass Aquarium'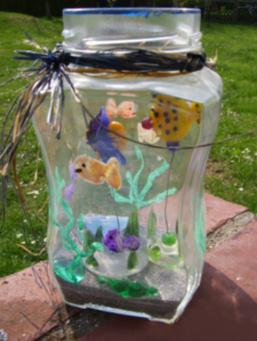 Materials:
Decorative glass or an empty preserving jar (Jam, gherkins…)
Paint which can be used on glass (e.g. glass paint, acrylic paint, marker pen or self-made fish/algae made of coloured card or stickers.)
Raffia or gift ribbons for the glass rim.
Quartz sand or Decorative sand
Sea shells, figurines or stones…
If no figurines are available: coloured card, scissors, stickers, wire.
Instructions:
Firstly, the glass is decorated, in the example algae was drawn on using glass paint and the rim was painted blue.
An alternative that is just as good to use is coloured card, cut out and stuck onto the glass, or you can use matching stickers to decorate; whatever takes your fancy.
Wrap raffia or other decorative ribbon around the rim, tie into a bow.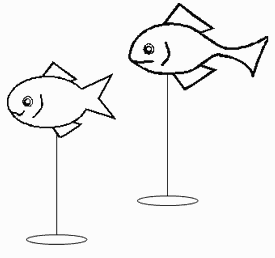 Then the aquarium is filled. Firstly, fill with Quartz sand (confetti, blue paper strips etc are all suitable) then finish by decorating with fish and sea shells.
If there are no matching figurines available you can draw and cut out fish out of coloured card. For one fish you need two bodies. The fish bodies are stuck together with wire in the middle. Once dry paint or decorate with pearls and place into the glass; to enable them to stand make a circle at the end of the wire. In the same way you can create terrariums or jungle landscapes.
[ © www.youthwork-practice.com | 2000 Games and Ideas for Youth Work ]