source: www.youthwork-practice.com | 2000 Games, Devotions, Themes, Ideas and more for Youth Work
only for private using
Glass ornaments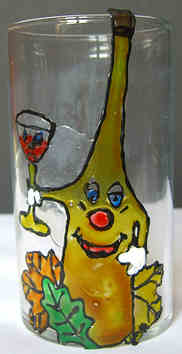 A nicely decorated glass for storing pencils or as a small gift.
Material requirements:
Motive stencil
Clear foil
Window glass paints
Instructions:
First of all you place the motive under the clear foil, you paint the contours with black paint and leave it to dry.
Then the edges of the motive are generously filled in with coloured glass paints. You should then leave the paint to dry again. Once the motive is dry carefully remove it from the foil and press it onto the glass.
[ © www.youthwork-practice.com | 2000 Games and Ideas for Youth Work ]