source: www.youthwork-practice.com | 2000 Games, Devotions, Themes, Ideas and more for Youth Work
only for private using
Guardian angel-bear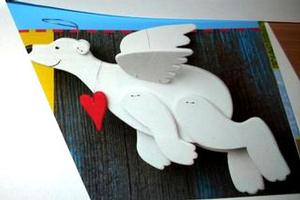 This cute guardian angel bear is made of plywood; 10cm x 15cm for the body, 20cm x 10cm for the legs, 10cm x 10cm for the wings, the ears and the heart. When drawing the individual parts be aware of the grain of the wood so that the plywood does not rip when being sawn out. The best thing would be to draw the face with pencil first and then go over the lines with a felt tip pen; paint the bear with acrylic paint.
To attach the legs it is advisable to use a thin wire (silver wire) bent into a tight 'U', which is first pulled through the previously drilled holes on the legs and then through the corresponding holes on the body. Now twist the ends together tightly and trim with a side cutter. Do the same thing for both wings.
Next take the thicker aluminium wire and bend into a halo- 2.5cm in diameter; place into the holes between the ears. Finally, hang the heart around and the bear is ready to take up its new position and fulfil its role.
[ © www.youthwork-practice.com | 2000 Games and Ideas for Youth Work ]