source: www.youthwork-practice.com | 2000 Games, Devotions, Themes, Ideas and more for Youth Work
only for private using
Leather-worms
Leather-worms are not only an ideal piece of jewellery for the own school bag, pencil case or keychain. Those small gems are also an ideal small gift for friends and family members, which you can give away without a special occasion. One or more leather worms can be crafted easily and without much effort, thus creating a unique piece of art.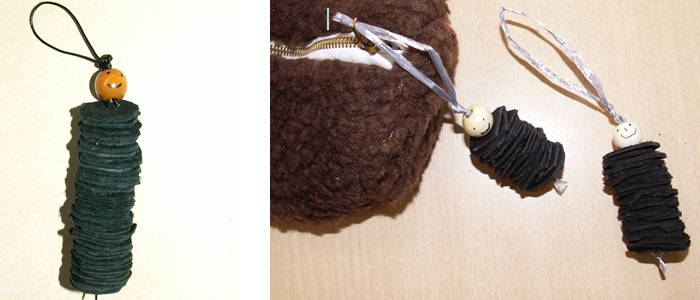 Required materials:
Pieces of leather
Ribbons - leather or raffia
Round pearls
Puncher and scissors
Instructions for Leather-worms
Begin by cutting small circles from the leather pieces. Once sufficient circles are cut out, punch a hole in the middle of every single circle. Once that's done, the discs are strung together with a ribbon. As soon as the leather worm has reached the desired size, string the pearl to it and knot the ribbon. To finish it off paint a face on the pearl.
Those leather pieces can generously be cut into circles. They can be used for many different things when crafting.
[ © www.youthwork-practice.com | 2000 Games and Ideas for Youth Work ]