source: www.youthwork-practice.com | 2000 Games, Devotions, Themes, Ideas and more for Youth Work
only for private using
Miniature Christmas – crib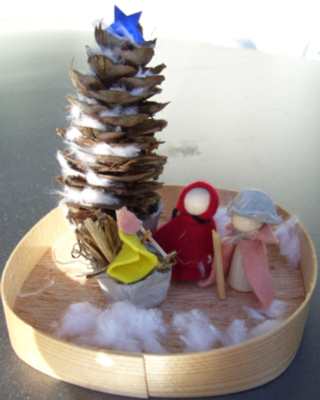 Materials:
Egg carton
Fir cones, straw
Wooden marble, felt remnants
Cotton wool, stars, match stick
Scissors, glue
Instructions:
Out of egg cartons, cut out pieces for the fir cone, crib and hat. Place the fir cone into the egg carton and decorate with cotton wool and stars.
For Joseph and Maria, cut out a cloak and cape from felt remnants- tie to the figurines with thread. For Joseph, make a shepherds stick by attaching a match stick (without the head), and a hat out of egg carton – gluing down if necessary.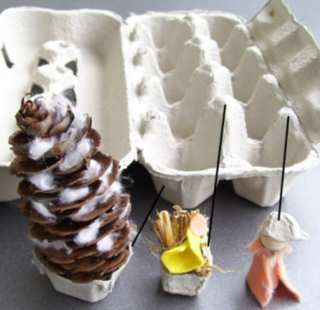 Use an empty egg shell for the crib, filling with straw or hay; make a baby Jesus out of felt remnants and place into the crib. Put all the pieces onto a base and decorate with cotton wool.
[ © www.youthwork-practice.com | 2000 Games and Ideas for Youth Work ]