source: www.youthwork-practice.com | 2000 Games, Devotions, Themes, Ideas and more for Youth Work
only for private using
Mobile phone- sock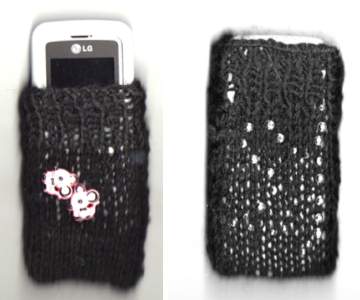 Materials:
Wool remnants (Sock wool)
Knitting needles, sewing needle
Rhinestones, buttons or Pins
Instructions:
The mobile socks are made out of a knitted rectangle. Cast on as many stitches as required for the width of the mobile. Work the first two centimetres in an alternation of 1 knit/1 purl i.e. one stitch knit, the other stitch purl. Thereafter continue to work the stitches in one row knit the other row purl until it is twice the length of the mobile – the last two centimetres should be done in the same way as the first two centimetres i.e. one stitch knit the next stitch purl. Cast off the stitches and fold the rectangle in half; sewing together the left and right sides. Decorate the mobile-sock as desired using rhinestones, pins or buttons.
Variation:
Knit the rectangle until it is 2½-times longer than the mobile. Sew together in such a way that the fabric is longer on one side by ½ of the total length. Sew on press on buttons or Velcro as a fastening.
[ © www.youthwork-practice.com | 2000 Games and Ideas for Youth Work ]