source: www.youthwork-practice.com | 2000 Games, Devotions, Themes, Ideas and more for Youth Work
only for private using
Nativity Scene
To tell stories and listen to Christmas songs makes it all the more fun when they are told in front of your own crib. The crafting is easy and requires only little effort.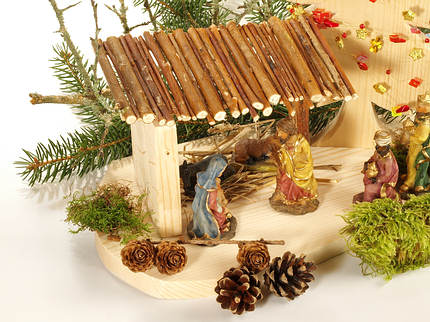 Nativity Scene
©: ExQuisine - Fotolia
Materials:
Christmas Crib Figures (are available at toy stores)
Two about 30 cm long boards with rounded edges (one of them may be a little shorter)
Timber
Thin branches
Branches, cones and stones
Glue
Instruction
The shorter of the two boards is glued to the longer board, in a way that it forms an angle of 90 degrees. Subsequently, the board is parallel to the second board.
The thin branches are cut to the same length and glued together on the long side. They should bridge the gap between the boards because the branches are supposed to be the roof of the crib.
Once the glue has dried, you can decorate your crib and put the figures in. For the decoration, you can use whatever you find in nature. Besides branches, cones, and small stones you also can use little patches of moss.
Note: The dimensions of the individual components depend on the size and number of your crib figures.
[ © www.youthwork-practice.com | 2000 Games and Ideas for Youth Work ]