source: www.youthwork-practice.com | 2000 Games, Devotions, Themes, Ideas and more for Youth Work
only for private using
Nine Mens Morris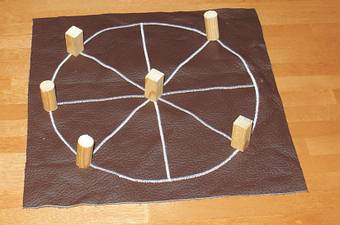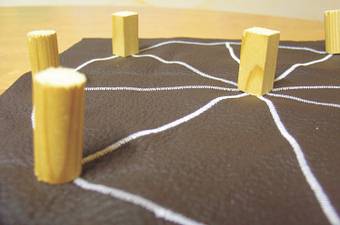 Aim
Aim of the game is to form a row of three game pieces to form a 'Mill'. Firstly decide on who will go first. Then each player receives three stones, which they place on the board. These can be used when the player runs out of pieces to play with.
Only one piece can be moved at a time, and can only be moved along by one space.
The game is very easy to play, but is only really enjoyable after a while i.e. once you know the tips and tricks.
Making Game Board
Making of this can be done in many different ways. As a game board, things such as a leather cloth, cardboard, stone, sand, a wooden board or even just paper can be used.
Lines are drawn on; if it's on fabric or leather these are best sewn on.
Game pieces
Even the game pieces can be made out of all kinds of things: wood, stone, clay, paper.
[ © www.youthwork-practice.com | 2000 Games and Ideas for Youth Work ]