source: www.youthwork-practice.com | 2000 Games, Devotions, Themes, Ideas and more for Youth Work
only for private using
Note pad cover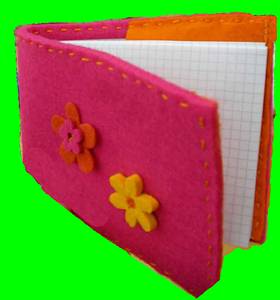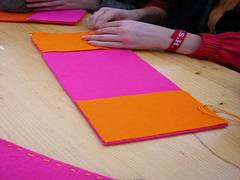 Writing pads sadly often end up being carelessly stuffed into a bag.
Unsightly dog-ears are the result. But with the help of this beautiful wallet, the writing pad receives a nice covering and immediately looks more valuable. Perhaps then the pad will be treated with more care.
The pocket pieces are cut out of 2 different coloured pieces of felt. (Technically it could also be cut out of one large piece – thus saving you from having to sew the front pieces).
The pieces of fabric are sewn together in three places. Following this, further decorations can be sewn onto the fabric.
Finally, put the note pad in, close it and finished.
The size of the fabric obviously depends on the size of the note pad.
[ © www.youthwork-practice.com | 2000 Games and Ideas for Youth Work ]