source: www.youthwork-practice.com | 2000 Games, Devotions, Themes, Ideas and more for Youth Work
only for private using
Pea-smashing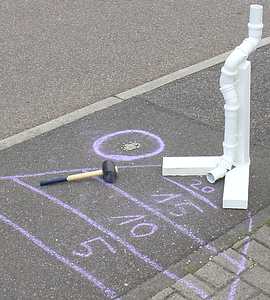 This game is simple. A dried pea is placed at the top of a tube, and when it reaches the bottom has to be caught with a rubber hammer. The quicker the pea is squashed, the more points received. The points are drawn onto the floor with chalk. The peas can be put down in the circle – top left.
If there is no tar and rubber hammer available to use, a wooden board can be laid underneath and a normal metal hammer can be used.
Pea smashing building instructions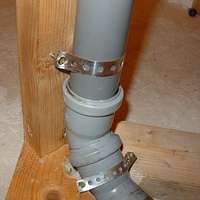 For the tube like e.g. a HT-Rohr as pictured from the builders market, installation pipes (conduits) from the electrician, or a washing machine pipe are all suitable. To attach it to a stick (or frame), cable ties, wire or something similar can be used.
[ © www.youthwork-practice.com | 2000 Games and Ideas for Youth Work ]