source: www.youthwork-practice.com | 2000 Games, Devotions, Themes, Ideas and more for Youth Work
only for private using
Pin cushion gnome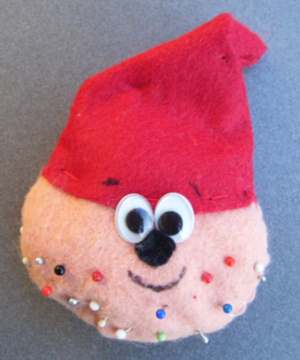 Materials:
Felt
Sewing needles, thread
Fleece, pencil
Wobbly eyes, pins
Instructions:
Out of skin coloured felt cut out two circles of equal size and sew together using the needle and thread leaving a 2cm gap. Turn the head inside out so that the seam is on the inside. Stuff the head with fleece/other filling and sew the 2cm gap together. Cut out a quarter of a circle from red felt, fold it in such a way to make a pointy hat and sew into place using a needle and thread. Place the pointy hat onto the head (where the 2cm hole was) and sew into place.
Stick on wobbly eyes and cut a nose out of felt and stick on. Draw on a mouth and eyebrows, and stick the pins into the face to look like beard stubble. Take care if the pin cushion is too small – insert the pins at an angle so that they don't poke out of the back.
[ © www.youthwork-practice.com | 2000 Games and Ideas for Youth Work ]