source: www.youthwork-practice.com | 2000 Games, Devotions, Themes, Ideas and more for Youth Work
only for private using
"Reindeer" window picture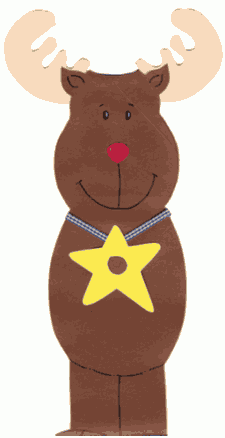 This is a Christmas window picture. This is a good idea for a present for mothers and grandmothers. This is suitable for children aged 8-12 and takes approximately half an hour to an hour.
Templates:
Material:
Coloured paper
A checked ribbon (approx 1cm wide)
A black fibre pen
Card for the stencilys
Paste and scissors
Yarn.
Preparations:
First of all the templates must be transferred onto card and cut out. These will become the stencils.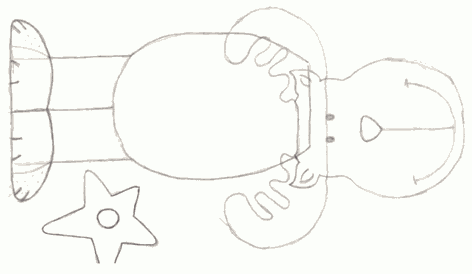 Process:
Firstly, draw the parts onto coloured paper with the help of the stencils and cut them out. Your help may be needed to cut out the hole in the star. Stick the head onto the body and then stick the antlers onto the head.

Then add the face, ears, legs and feet with a black pen (see example). The nose can either be drawn on with a red pen or cut from red paper.

Take a piece of ribbon (approx 15cm long) sticking it down on the front and back and stick the star to it. The star can be fixed with little dots of paste in the zigzags of the body of the reindeer.

Draw the face and stick down the nose from the reverse side too.

Punch a hole through the top of the head and thread a yarn through it.

This allows the picture to be hung up in the window.
[ © www.youthwork-practice.com | 2000 Games and Ideas for Youth Work ]