source: www.youthwork-practice.com | 2000 Games, Devotions, Themes, Ideas and more for Youth Work
only for private using
Serata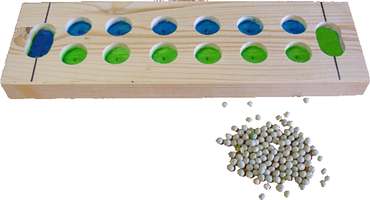 This is actually an African game which is played in sand or on soft soil.
However because of this it makes it difficult to play this in a youth club session, coffee shop or with friends as it always requires you to go outside. Consequently out of this 'outdoor game', I made a board, cloth or paper game.
Aim of the game is to collect as many stones as possible.







The game
The game board consists of 2 rows with 6 holes each. Each player has one row and the Serata, which is to the right of the row at the edge of the board. At the start of the game, each hole contains between 3 and 6 stones. For the 'stones' things such as peas, marbles or other materials can also be used.
How to play
One player starts by picking one of his holes, and taking all of the stones out of it. Then he distributes his stones in the direction of his Serata i.e. in an anti-clockwise direction. 1 stone has to be placed into each hole. There are no rules as to whether a stone has to be placed into the Serata of your opponent or whether it is missed out. However I find it best when a stone has to be placed into each Serata.
The game is finished as soon as one person has no more stones in their holes, and hence can't continue to move. The opponent takes any stones that remain in the holes.
Rules
If the last stone falls into an empty hole, then the player gets all of the stones in the hole opposite to his Serata. This ends the move.
If the last stone falls into the Serata another hole can be emptied again i.e. the player can continue to play.
Stones which are placed into the Serata can not be removed.
The person with the most stones in their Serata, wins.
A contribution from Ronnie Berzins.
[ © www.youthwork-practice.com | 2000 Games and Ideas for Youth Work ]