source: www.youthwork-practice.com | 2000 Games, Devotions, Themes, Ideas and more for Youth Work
only for private using
Tennis ball 'Federspiel'

The ball should come roughly into the centre of the fabric. If the ball then touches the fabric, pull the fabric by pulling the two wooden handles apart. This causes the ball to catapult back.
It takes a while to get the knack of this, but once you do, the game becomes noticeably more fun.
Building Instructions:
You need two round wooden pieces, 22cm long and approximately 3cm in diameter. Drill holes (10-15mm deep) into the wooden handles leaving a 1 cm border with the edge.
Put a rubber band through the holes and a fabric which will protect it from fraying too quickly. Sew this on as closely to the wood as possible
A cloth approx. 25x14 cm is required which is sewn around each edge. Then the rubber band coming out of the wood is sewn to the cloth.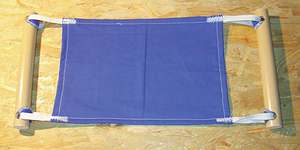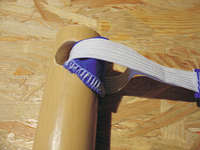 [ © www.youthwork-practice.com | 2000 Games and Ideas for Youth Work ]