source: www.youthwork-practice.com | 2000 Games, Devotions, Themes, Ideas and more for Youth Work
only for private using
Timetable pillar/tower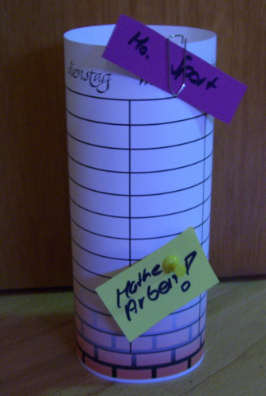 Materials:
Paper
Corrugated card
Paper clips, pins
Note paper
Scissors, glue
Instructions for making timetable
Obtain a blank timetable or print one out/draw it and enter the school hours into it. Stick the timetable onto corrugated card and leave to dry. Roll the timetable into a column and seal with sticky tape.
Stick the column onto craft card. Place small brightly coloured bits of paper with corresponding notes into the middle of the column. Stick important notes (woodwork, sport, work, presentation, free) onto the respective hour with a pin.
[ © www.youthwork-practice.com | 2000 Games and Ideas for Youth Work ]