source: www.youthwork-practice.com | 2000 Games, Devotions, Themes, Ideas and more for Youth Work
only for private using
Apple light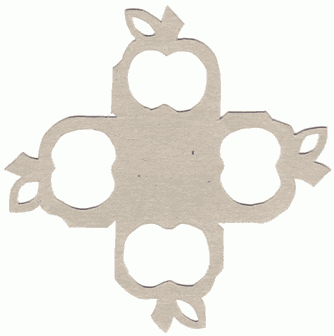 This is a nice autumn craft idea. However it is not easy to produce. It is suited to children older children and takes approximately one hour.
Material:
Coloured paper (dark green)
Scissors and good paste
Transparent paper (red, yellow or orange)
Card for the stencils
Preparations:
Transfer the template onto card to make several stencils. You do not need to do anything else in advance.
Process:
First of all the children must draw the template onto dark green paper using the stencil and then cut it out. Make sure that side tabs are not cut off as well. The sheet is quite difficult to cut out so you may want to use a scalpel instead. You should do this yourself.

Fold the side tabs and edges so that they be bent over more easily later.

Cut the transparent paper to size and stick it behind the apple on all sides.

Stick it together with the help of the tabs. It is a good idea for the kids to help each other because you usually need at least three hands.
Please be aware that the apple light needs time to dry. You can place a tea light inside at the end. You can use a hot glue gun to fix this in place but you cannot exchange it later.
Have fun!
[ © www.youthwork-practice.com | 2000 Games and Ideas for Youth Work ]