source: www.youthwork-practice.com | 2000 Games, Devotions, Themes, Ideas and more for Youth Work
only for private using
Autumn hedgehog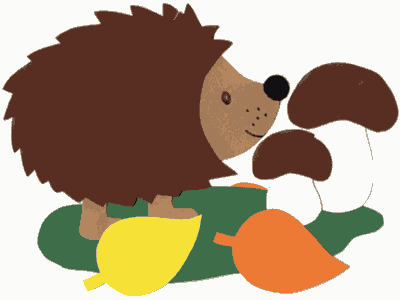 This hedgehog is a pretty autumn window decoration which is easy to make. It is suitable for children of primary school age and, depending on the ability and age of the children, takes approx half and hour to three quarters of an hour.
Material:
Coloured paper
Card
Paste, scissors and pencil
Black fibre pen
Templates:
You can also use other colours depending on what you have in stock and to suit your own taste.
Preparations:
For smaller children, the templates must be drawn out so draw the parts once or twice onto card depending on the number of children. Prepare the right size coloured paper. Older children can do this themselves.
Process: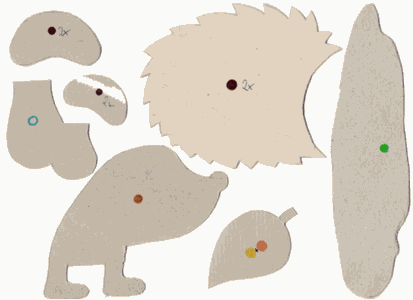 Draw all of the parts onto coloured paper with the help of a stencil and cut them out. Stick the parts together as follows:
Apply the spines onto the hedgehog body from both sides.

Stick the hedgehog to the background.

Stick the mushrooms together and then onto the back ground.

Stick the leaves onto the background on both sides.
Make sure that the reverse side look nice as well.
Add the eyes, nose and mouth of the hedgehog from both sides with a black pen as the final step.
Tip:
Larger children can also make a chestnut leaf. This is fixed onto the hedgehog with a yarn of thread. Thread the yarn with a needle through the upper edge of the hedgehog spine and knot it. Thread into the leaf and thread out again further up. Leave some thread at the top so that the hedgehog can be hung up in the window.
[ © www.youthwork-practice.com | 2000 Games and Ideas for Youth Work ]