source: www.youthwork-practice.com | 2000 Games, Devotions, Themes, Ideas and more for Youth Work
only for private using
Box with egg shell patterns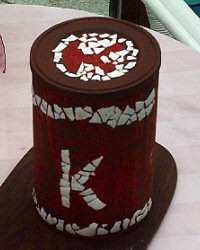 Material:
Egg shells in white and brown tones
Craft glue
Triangular box
Egg shaped box
Round box
For the pattern collect egg shells, wash them out while removing the membrane inside and let them dry. Little by little, cover approx 2 x 2 cm areas with glue. Place the egg shell pieces onto the glued surface with a pair of tweezers and press them down with the points of the tweezers. Distribute the little pieces so that little gaps are made. If the shells stick to the tweezers you can remove them on another surface (remove the glue from the tweezers from time to time). Once the mosaic surface is dry it must be covered with glue using a soft brush. This seals the pattern and imbeds the shells so that the surface is not too fragile. The lid can also be glued.
Triangular box:
Transfer the motive onto the lid of the box. Glue the goose with white egg shells, the bow around its neck can be made from brown egg shells (these pieces should comes from a different egg so that the colours are different). Then cover the whole background bit by bit with dark egg shells.
Egg-shaped box:
Transfer the shape onto the box lid or draw it free hand. Cover the alternating stripes with brown and white egg shells. Frame the edges with white shells.
Round box:
Transfer the shape onto the box lid and decorate the Easter egg pattern with brown and white egg shells to your own taste. Glue white egg shells around the shape gradually turning into brown. Frame the edges with brown egg shells.
[ © www.youthwork-practice.com | 2000 Games and Ideas for Youth Work ]