source: www.youthwork-practice.com | 2000 Games, Devotions, Themes, Ideas and more for Youth Work
only for private using
Figurines made from chestnuts, acorns and pinecones
When in autumn the forest wears its most beautiful colours, it is fun going out for a walk with friends and family. It makes it all that much more fun as you can collect a lot of things you can use later on for crafting.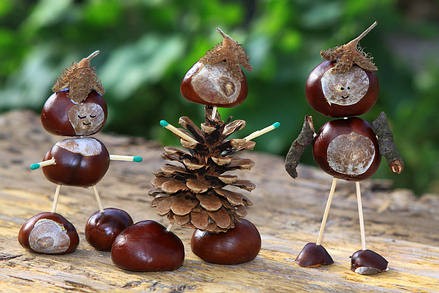 ©: Karina Baumgart - Fotolia
For the figurines you need:
Chestnuts
Cones
Acorns
Matchsticks or toothpicks
Possibly glue
Instructions:
First, sort your collection by tree fruit, size and shape. Larger chestnuts can be used for the body of your figurines while round chestnuts and acorns can be used for the heads. For the feet use chestnuts which are flattened slightly.
Head and legs you can attach with toothpicks to the bodies of your figurines. If necessary also use a drop of glue for the needed support. For the arms, you can use mates or toothpicks, which can easily be stuck into the chestnuts.
[ © www.youthwork-practice.com | 2000 Games and Ideas for Youth Work ]