source: www.youthwork-practice.com | 2000 Games, Devotions, Themes, Ideas and more for Youth Work
only for private using
Clown bookmark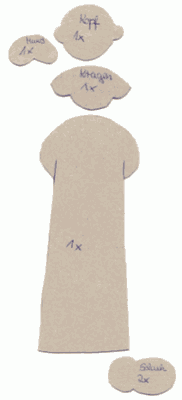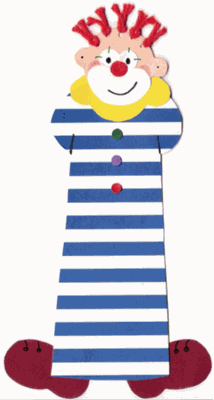 The bookmark is a good idea for children of primary school age. Because the bookmark can be used later and does not just hang around, the kids will have lots more fun and will really apply themselves. The time required for this craft is approximately three quarters of an hour. However this does depend on the level of your group and how much you prepare in advance.
Material:
Coloured paper
Scissors and paste
Card stencils
Black fibre pen
Wool and needle
Preparations:
First of all the templates must be transferred onto card and cut out one or two times. For smaller children it makes sense to draw the outlines on coloured paper so that they only need to cut out and stick together.
Process:
Using the stencils draw the pieces onto coloured paper and cut them out. Stick the parts together as follows:
Stick the collar onto the body.

Stick the head onto the collar.

Stick the mouth onto the head.

Stick the shoes onto the body.
Additionally you can also make little circles which can be stuck onto the body as buttons. The nose and eyes can also be cut out but it is recommended that these are simply drawn on when working with smaller children. Draw the details on the shoes and the rest of the face.
The final stage is to attach the hair. Thread the wool onto a needle and thread it through the top of the head knotting the wool with a double knot at the ends. The excess threads are cut off. Repeat this process around five times.
Have fun!
[ © www.youthwork-practice.com | 2000 Games and Ideas for Youth Work ]