source: www.youthwork-practice.com | 2000 Games, Devotions, Themes, Ideas and more for Youth Work
only for private using
Fabric covered album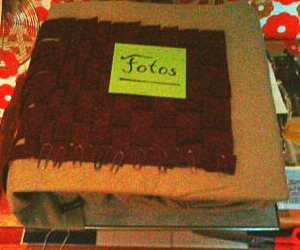 Gluing holiday snaps in a homemade album: this is very simple because you only need materials which can be found in your local stationary store. You can use a wide range of materials for the cover – the amount must be sufficient for the front and reverse side and the inner sleeves. You can use a range of paper for the leaves. It should just be stable enough to take the weight of the photos. There are different possible ways of attaching the photos. If you use a patterned material make sure that the pattern is straight before you glue it down.
Material:
50 g filler material for the front side of the album
A file (document file)
Scissors, spray glue
Fabric as an album cover
Black card
Blue-black acrylic paint
How to make it:
Place the filling material onto the front side of the folder and cut it to size. Glue it down.

Open the folder and place it onto the fabric. Cut the front fabric to size however 2.5cm should be left as excess fabric. Cut the back of the folder to size and leave a slip of 1.5cm of fabric excess. Cut off the corners of the slips of fabric slanted so that the material can be folded over and slid under the back of the folder. Use some glue to stick the fabric to the back of the book. Brush the inner side of the back of the book with glue and stick down a suitable piece of fabric. Press the fabric down firmly.

In order to cover the inner side, cut the material to size and stick it down. You can also decorate the inside of the book back additionally or just with blue-black paint. Trim all of the sides of the book with black stain ribbon or cord to avoid the fabric fraying at the edges.

Before you add the album pages, reinforce the punch holes with sticker supports. If you like, you can also paint the supports.
[ © www.youthwork-practice.com | 2000 Games and Ideas for Youth Work ]