source: www.youthwork-practice.com | 2000 Games, Devotions, Themes, Ideas and more for Youth Work
only for private using
Deco Candle tinkering
The special thing about this Deco candle is that you do not need expensive special transparent paper. You can use regular white photocopy paper.
First, cut the paper to the right size and paint it with rich wood colours.
Now using a brush, "paint" the paper on both sides using regular sunflower oil Remove the residual oil gently with a towel after a few minutes and dry for about 10 more minutes.
Stick the paper together so that it builds a round shape.
Allow the oil to soak in and your deco lamp is finished.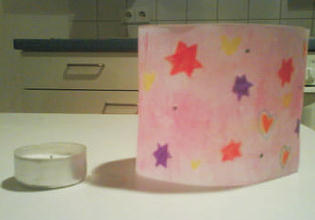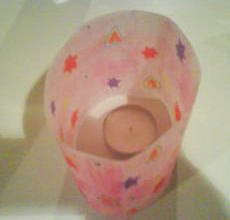 Send in from Ronnie Berzins
[ © www.youthwork-practice.com | 2000 Games and Ideas for Youth Work ]