source: www.youthwork-practice.com | 2000 Games, Devotions, Themes, Ideas and more for Youth Work
only for private using
Glass Marble Gyro
Material:
Per gyro 4 glass marbles
Glue or Superglue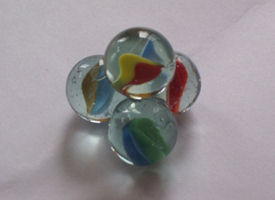 That's how it's done
Glue three marbles together on each side, please refer to the picture. Then the fourth marble glue "on top", dry and the gyro is finished.
Tip:
best to use glass glue, this holds the longest
Start:
Hold the gyro at the top "pyramid" and turn it. As soon as the correct speed is obtained it will settle on one marble.
Who can rotate his gyro the longest?
Send in from Sandra Stöhr
[ © www.youthwork-practice.com | 2000 Games and Ideas for Youth Work ]