source: www.youthwork-practice.com | 2000 Games, Devotions, Themes, Ideas and more for Youth Work
only for private using
Jewellery- or mysterious box
Material:
Empty butter container or any other, similar box
Blue construction paper
Blue, white and red wool (or any other preferred colours)
Cotton wool (interior part of the pom-pom of the lid, so there is not as much wool is required)
Scissors
Glue
Pencils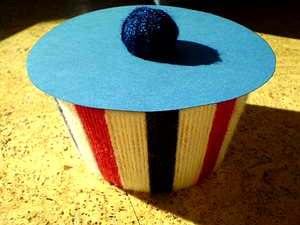 Instructions:
First, you need to remove the bottom of the butter box with a sharp and pointy knife. It is recommended that you do that for young children. Next you need to refine the sharp and pointy edges of the box. Now cut the wool in pieces of the same length.
You can do that with one piece and using it as a template or you could use a ruler as well. Then secure it all with a knot at the edge of the butter container. Now wrap the wool around the edges, so that one string of wool sits next to another line of yarn. Do that with all the different colours of wool you have prepared until the entire edges of the butter container are covered.
You need to be patient because this is a very time-consuming activity. Now draw two circles on the construction paper. Be aware that the bottom has to be slightly smaller than the lid. Now glue the bottom in. If it is still too big, you can cut the edges off later. For the pom-pom take a cotton wool ball and cover it with wool until you can't see the cotton ball anymore, then stick it on the lid.
Send in from Romina Kamrad
[ © www.youthwork-practice.com | 2000 Games and Ideas for Youth Work ]