source: www.youthwork-practice.com | 2000 Games, Devotions, Themes, Ideas and more for Youth Work
only for private using
A felt Keychain (as a gift)
Material:
Wood residues, ca 1 cm x 12 cm
Scissors
Glue
Thread
Needle to sew
Pins to secure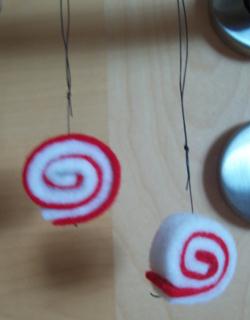 That's how it's done:
Stack two or three different felt pieces together. For the beginning glue them a little and roll it up like a snail, glue it again and fix with a pin. Now sew it all together using a needle and thread. You best do that, beginning from the bottom for 2-3times. Secure a loop on top and you are already finished.
Variant:
Several "snails" can be threaded on a jewellery wire.
Send in from Sandra Stöhr
[ © www.youthwork-practice.com | 2000 Games and Ideas for Youth Work ]