source: www.youthwork-practice.com | 2000 Games, Devotions, Themes, Ideas and more for Youth Work
only for private using
Making a scroll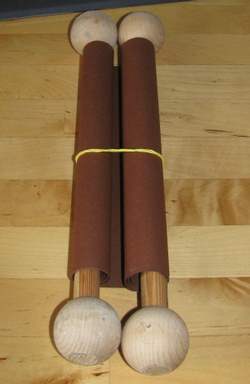 Scrolls were around long before there were books or even printed newspaper.
And before the scrolls all important events were written on stone tablets.
We want to make such a simple scroll. When the scroll is completed, each child can write a story, glue pictures in, or alternatively, the role can be used for a planned adventure game.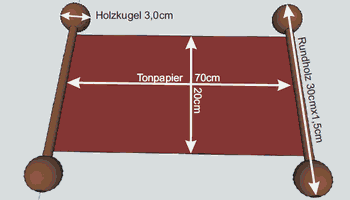 Material:
Construction paper (or any other material) 70cm x 20cm
Round wood 30cmx1,5cm,
Wooden ball 3,0cm
Drill holes in the wooden balls
Now cut the round wood to the right length and glue it into the wooden balls.
Next cut the construction paper to the right size and stick it to the round wood using Uhu or Sellotape.
First put some Uhu on the construction paper, then put the round wood in the glue. To finish it off secure everything with Sellotape.
Send in from Ronnie Berzins
[ © www.youthwork-practice.com | 2000 Games and Ideas for Youth Work ]