source: www.youthwork-practice.com | 2000 Games, Devotions, Themes, Ideas and more for Youth Work
only for private using
Max the Turner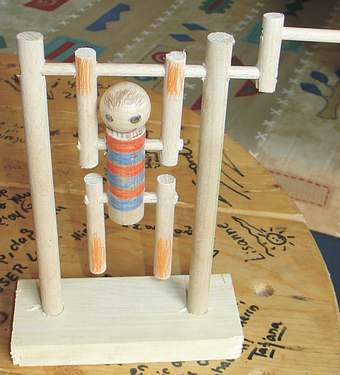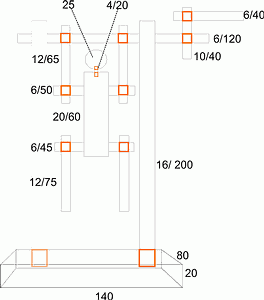 Max the Turner is relatively easy to create and not expensive at. All the wood shown in the sketch has to be cut to the right dimensions, drilled and nicely sanded back.
With the measurements below, the first number always indicates the diameter and the second number the length of the log.
In the brown highlighted holes, you need to glue; at the other holes you need to drill holes, all 1mm larger than your round wood which goes through those holes. Those are the holes where Max eventually will turn.
It is essential that all the holes are straight and in the middle of the little logs.
Send in from Ronnie Berzins
[ © www.youthwork-practice.com | 2000 Games and Ideas for Youth Work ]