source: www.youthwork-practice.com | 2000 Games, Devotions, Themes, Ideas and more for Youth Work
only for private using
Notepad holder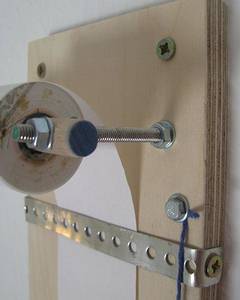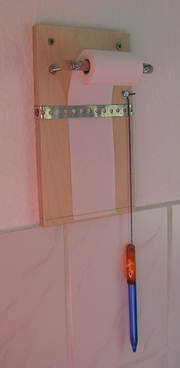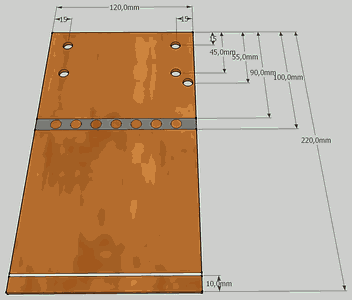 Ideal for the kitchen, your office or child's room. No matter where you need to take some notes, that's where our craft idea comes into play.
You need to fasten the roll holder and the metal strip, on a base plate of 220x120mm. You also need to secure the penholder screw and a rubber band at the bottom that holds the paper on the board.
Material:
Wood panel 220x120x10mm
Round wood 110x10mm
2x 70mm threaded rod M3x
10 nuts and washers M3
1 Screw M3x15mm
1 Hole strip or sheet of metal 120x10mm
2 Spax 10x1mm
Yarn and pen
POS Paper Roll
Building instructions:
Cut the board to the right measurements, then sand it
Cut the round wood and drill the holes
Saw threaded rod and rasp it
Drill the holes according to the template below
On the back, using a Forstner drill, widen the holes for the screws to that they "disappear" in the holes and don't stand out.
Screw the perforated strip on the board
Screw the threaded rods and round wood to the board.
Secure the pen with the screw.
Send in from Ronnie Berzins
[ © www.youthwork-practice.com | 2000 Games and Ideas for Youth Work ]