source: www.youthwork-practice.com | 2000 Games, Devotions, Themes, Ideas and more for Youth Work
only for private using
Photo holder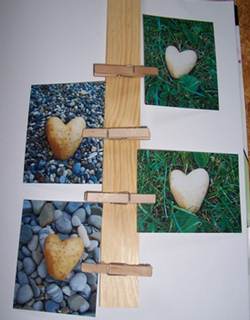 Material:
Wooden bar (residues from carpenters) or wooden cooking spoons
Wooden clothespins
Glue, hot glue, wood glue
That's how it's done
Whichever piece of wood or wooden spoon you use, paint it in you desired colour or leave it natural. Secure the clothespins on the left and right side. Best you do that with hot glues.
Maybe drill a hole to hang it up and your photo holder is already finished.
Variation: use it as a keyboard
Instead of clothespins, one can use small hooks to screw in, then you hang your keys up on it.
Send in from Sandra Stöhr
[ © www.youthwork-practice.com | 2000 Games and Ideas for Youth Work ]